The UP Law Faculty is known for its expertise in the various fields of law and is recruited by invitation to teach in the College. Policymakers call on the Faculty regularly for their insights on pending legislation or to draft laws for congressional action. Members of the faculty litigate cases of national significance. They appear before the Supreme Court either as counsels for various parties or as amicus curiae. Two former members of the College are now sitting Justices of the present Supreme Court — Associate Justices Francis Jardeleza and Marvic M.V.F. Leonen. Retired Judge Raul Pangalangan of the International Criminal Court also served as the faculty's Dean. The Law Faculty is also widely published in prestigious Philippine and international journals.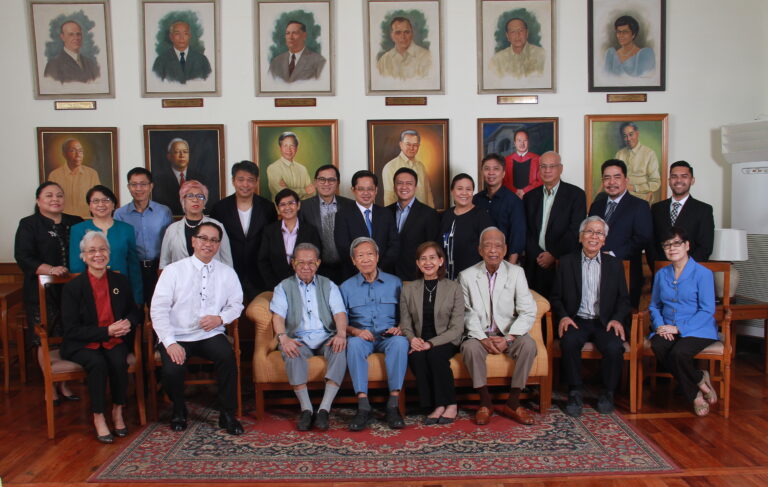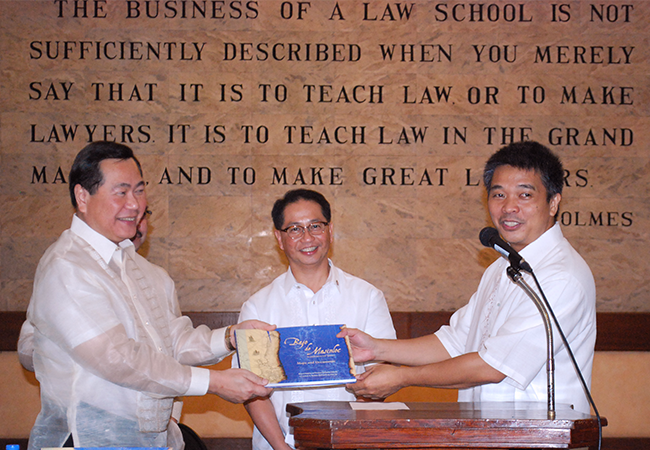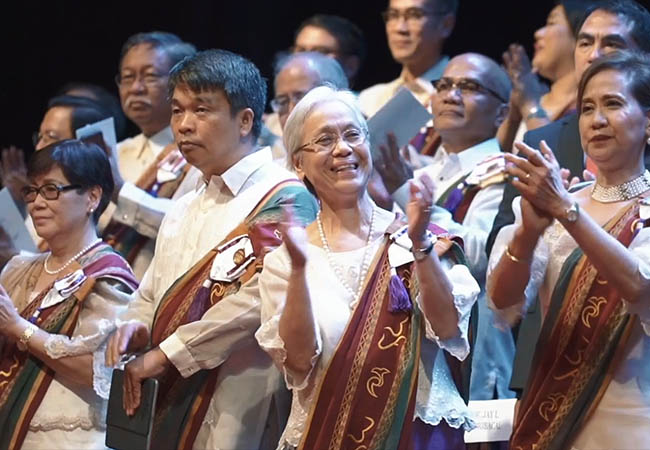 De Vera, Gwen G.
Espenilla, Jacqueline Joyce F.
Te, Theodore O.
Tiu, Michael Jr. T.
Abella , Eduardo Juan F.
Abella , Edwin R.
Agabin , Pacifico A.
Agcaoili , Oswaldo D.
Aquende , Emerson B.
Arreza, Augusto Jose Y.
Bautista, Chrysilla Carissa P.
Bautista, Rosa Maria J.
Buyco, Purisimo S.
Carlota, Salvador T.
Concepcion, Ma. Gabriela R.
Custodio Jr., Demetrio D.
De Leon, Hector M.
Divina, Nilo T.
Esguerra, Ramon S.
Francisco, Emma C.
Gasgonia, Donna Z.
Gorospe, Rene B.
Herbosa, Teresita J.
Jardeleza, Concepcion L.
Jimenez, Ildefonso R.
La Viña, Antonio G.M.
Labitag, Eduardo A.
Lat, Ma. Tanya Karina A.
Layug Jr., Jose M.
Liban, Luisito V.
Magallona, Merlin M.
Morales, Rafael A.
Morales, Rowena D.
Muyot, Alberto T.
Poblador, Maria Celia H.
Quevedo, Rogelio V.
Reyes, Rocky D.L.
Rima-Santiago, Josephine P.
Salvador-Daway, Patricia
Salvador Jr., Serafin U.
Salvador III, Tranquil S.
Samson III, Jose S.
Sanidad, Arno V.
Sibal-Pulido, Simonette E.
Singh, Maria Filomena D.
Sobreviñas, Francis V.
Te, Theodore O.
Villanueva, Susan D.
Yu, Anthony Charlemagne C.
Abad, Anna Maria D.
Abellera, Zardi Melito D.
Acosta, Abraham Rey M.
Aguirre, Leandro Angelo Y.
Allado, Ramon Quintin Claudio C.
Angeles, Darwin P.
Angeles, Joseph Emmanuel L.
Asilo, Francis Alvin V.
Autea, Arthur P.
Bagro III, Herminio C.
Baguilat, Raymond Marvic C.
Baldrias-Serrano, Lorybeth R.
Balisacan, Ryan Hartzell C.
Baniqued, Carlos G.
Barot, Peter Donnely A.
Benosa, Maria Emilynda Jeddahlyn Pia
Bernardino, Crisela L.
Bocobo, Mark R.
Cabeza, Alfredo R.
Cabreros, Marissa O.
Calica, Dan P.
Canlas, Jerome D.
Caringal, Jaime Fortunato A.
Casanova, Arnel Paciano D.
Castro, Rachel Ann M.
Cerilles Jr., Mario C.
Chan, Gerard L.
Chua, Gian Angelo E.
Coronel, Sandra Marie O.
Dayag, Florian Kim P.
De Leon, Alaya M.
De Leon, Joseph Benjamin B.
DeSantos , Senen Agustin S.
De Venecia-Fabul, Joan A.
De Vera, Arnold F.
De Vera, Gwen G.
Dee, Gabriel A.
Domino, Jenny Jean B.
Du-Baladad, Benedicta A.
Dy, Anzen P.
Dy, Ervin Fredrick H.
Eleazar, Victor Y.
Encarnacion, Aissa V.
Escueta-Duavit, Elvira V.
Espenilla, Jacqueline Joyce F.
Fajardo, Abdiel Dan Elijah S.
Ferrer, Arianne Dominique T.
Fider, Alex Ferdinand S.
Figueroa, Roberto L.
Gentugaya, Mia G.
Geraldez, Regina P.
Go, Carlo Miguel Romeo S.
Go, Marie Michelle B.
Gomez, Joni R.
Gonzales Jr., Reno R.
Guanzon, Teresa Ira Maris P.
Guiao, Cecilia Therese T.
Guinto,, Celeni Kristine G.
Gumpal, James Dennis C.
Gutierrez, Ricardo Jesus E.
Hernandez Jr., Carlos S.
Joven, Mark Dennis Y.C.
Jumamil, Theodore Joseph M.
Kesterson T. Kua
Labay, Jo Blanca P.B.
Lacson, April Carmela B.
Lao, Christopher John P.
Legarda, Ma. Carolina T.
Libunao, Ma. Theresa G.
Ligutan, Amando Virgil D.
Lim-Ong, Dyan Danika G.
Lim, Jerwin James C.
Lising, Daniel D.
Litong, Glenda T.
Llasos, Marwil N.
Loanzon, Victoria V.
Loon, Jose Martin A.
Lopez, Jhosep Y.
Lucenario, Dina D.
Macapagal, Michael T.
Magalang, Sandra Mae T.
Malagar, Leo B.
Malit, Ryan Anthony S.
Manahan, Elson B.
Manlangit, Donna Patricia C.
Mapalo, Ma. Carla P.
Marcelo, Monica Joy M.
Marte-Rediang, Maria Rosario M.
Mawis, Ma. Soledad D.
Meneses I, Cresencio T.
Molo III, Alfredo B.
Ocampo, Christopher Louie D.
Ortiz, Lawrence Gerard T.
Oyales, Mark Xavier D.
Pagayatan, Froilyn D.
Palarca, Jose Miguel D.C.
Pambid, Renato M.
Pangalangan, Raphael Lorenzo A.
Pedron, Divina Gracia E.
Pilares-Gutierrez, Ma. Pilar M.
Pingul, Carla S.
Policarpio, Ronald D.
Quevedo-Panagsagan, Grace P.
Quicho, Elita Joy P.
Quimbo, Rodrigo Lope S.
Quintero, Paul Dennis A.
Quintos, Marie Cecile R.
Raquedan, Jhoel P.
Recinto-Mamangun, Rachel Mayo M.
Regalado, Jannet C.
Reyes, Gilbert Raymund T.
Reyes, Oliver Xavier A.
Rico-Cruz, Gerely C.
Rodolfo, John Boomsri S.
Rodriguez, Ana Margarita A.
Romero, Charlton Jules P.
Romero, Ma. Isabel P.
Rosales-Sto. Domingo, Mary Grace Anne S.
Rostrata, Merwyn Paul D.
Salazar III, Roderick R.C.
San Juan, Bryan A.
San Juan, Teodulo Antonio G., Jr.
Sanchez, Dionne Marie M.
Sarmiento, Maria Victoria D.
Silva, Neil Simon S.
Solis, Ronaldo O.
Tamase, Paolo Emmanuel S.
Tan, Mary Rose S.
Tantuico, Fina Bernadette D.
Tecson, Katherine Michel V.
Tiu Jr., Michael T.
Tongco, Nadaine P.
Tugade, Ruby Rosselle L.
Uribe, Crisostomo A.
Uychoco, Arnell P.
Valdez, Eduardo Victor J.
Valena, Maria Patricia S.
Vargas-Trinidad, Flordeliza C.
Vasquez, Raul T.
Villareal-Fernando, Ernestine Carmen Jo D.
Villordon, Lhoverette Jeffrey P.
Viray, Virginia B.
Yaneza-Esporlas, Yvette T.
Yarcia, Lee Edson P.
Zamora, Ma. Kristina S.
*Note: The above list of lecturers may change per semester, please email the Dean's Office (uplawdean.upd@up.edu.ph) for any related query, thank you.
It seems we can't find what you're looking for.