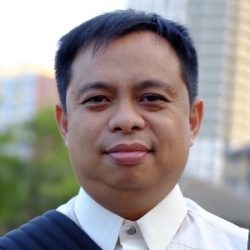 Assistant Professor
Emerson S. BAÑEZ

(+632) 8 920 5514 loc 411
University of the Philippines, Bachelor of Arts in Communications Research (2002)
University of the Philippines, Juris Doctor (2008)
International Economic and Business Law, Kyushu University, Master of Laws (2016)
Emerson Bañez is an Assistant Professor at the University of the Philippines College of Law, teaching in its J.D. and LLM programs.
Emerson obtained his B.A. in Communications Research (2002) and J.D. (2008) from the University of the Philippines, where he became a member of the Philippine Law Journal, and his LL.M. (2016) from Kyushu University.
He taught in the UP College of Mass Communication, Communication Research Department from 2005 to 2013, and was the Technical Chief of Staff of the Institute for Government and Law Reform from 2011 to 2013. He also served as Associate Solicitor, and later, State Solicitor in the Office of the Solicitor General from 2013-2017. In addition to teaching at the UP College of Law and heading the Institute for the Administration of Justice, he also serves as Special Counsel of the Disini & Disini Law Office. He is also lectures at the University of the Philippines Open University and the Philippine Judicial Academy.
"Country study: The Philippines." ASEAN and Trafficking in Persons: Using Data as a Tool to Combat Trafficking in Persons, International Organization for Migration (Geneva)
"Evolving democracy: A memetic analysis of the latest proposal for constitutional change in the Philippines." Political Marketing: Cultural Issues and Current Trends, NY: Sage Publications
"Philippine Competition Policy" (Proceedings of the 2014 ASEAN Symposium on Competition Policy – Chulalongkorn University, Bangkok, Thailand)
"Regulatory Issues for Cryptocurrencies", World Bulletin, UP Law Center Institute for International Law
"Constructing Legal Ontologies for Comparative Law", Philippine Journal of Legal Education (Online)
"Philippine Copyright Code", Asian Comparative Law, Vol. 1
"The Pork Barrel System and the Balance of Power in Executive-Legislative Relations", Philippine Law Journal, Vol. 95
"Philippine EV Law and Policy", Proceedings of the 18th Asian Legal Information Network Conference
"Rethinking Taxation in the Digital Economy", Philippine Institute of Development Studies Journal
Legal Bibliography
Legal Method
Legal Profession
Administrative Law
International Financial Law
Computational Law
Financial Law
Competition Law
Administrative Law
Legal Ethics