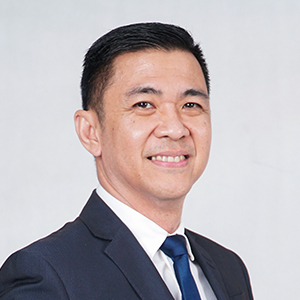 Assistant Professor
Andre C. PALACIOS

(+632) 8 920 5514 loc 102
University of the Philippines, Bachelor in Secondary Education (1992)
University of the Philippines, Bachelor of Laws (1998)
University of London, Master of Laws (2006)
Andre Palacios, also known as Raj, is an Assistant Professor of the University of the Philippines College of Law where he teaches international law in the Juris Doctor (J.D.) and Master of Laws (LL.M.) programs. He is also an expert in infrastructure law, especially public–private partnerships (PPPs).
As international law specialist, Prof. Palacios chairs the International Law and International Affairs Committee of the Integrated Bar of the Philippines. He is also the Executive Director of the ASEAN Law Institute which seeks to promote ASEAN regional integration through legal convergence.
Prof. Palacios was a senior lawyer at the World Bank in Washington, D.C., and assistant to the Philippine Permanent Representative to the World Trade Organization in Geneva. He assisted the Philippine Government in its WTO dispute with the US and EU involving Philippine excise taxes on distilled spirits.
As infrastructure law expert, Prof. Palacios served as Undersecretary and head of the Public-Private Partnership Center of Philippines. Previously, he was an Assistant Secretary in the Office of the President, and the general counsel of a Philippine government entity implementing an international infrastructure and development program. He serves as legal expert for infrastructure projects funded by the Asian Development Bank and continues to advise Philippine Government and private entities on infrastructure and PPP projects.
Author,  Trends in Philippine Citizenship Law: Relaxing the Rules?, 19 J. Immig., Asylum, Nat'lity L.
Public International Law
Private International Law
Supervised Legal Research