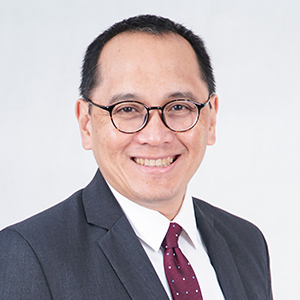 Associate Professor
Jose Jesus M. DISINI

(+632) 8 920 5514 loc 409
University of the Philippines, Bachelor of Science in (1989)
University of the Philippines, Bachelor of Laws (1993)
Harvard Law School, Master of Laws (2004)
Professor Disini received his LL.B. (1993) from the University of the Philippines, graduating 5th in his class. He was admitted into the Philippine Bar in 1994 after placing 7th in the Bar Examinations. He received his LL.M. (2004) from Harvard Law School, and has since been a council member of the Harvard Law School Alumni Association of the Philippines.
He joined the UP Law Faculty in June, 2000 where he has taught various commercial and civil law subjects including Obligations and Contracts, Torts & Damages, Negotiable Instruments Law (Bills and Notes), Credit Transactions, Negotiation & Mediation Workshop, Advanced Topics in Commercial Law, Advanced Issues in Intellectual Property and Cyberspace Law.
He was previously the director of the Institute of Government and Law Reform (IGLR) at the UP Law Center where he supervises projects on various public policy issues and legislative initiatives. He is also the founder and director of the UP Law Internet and Society Program.
Professor Disini is also a managing partner at the Disini & Disini Law Office where he specializes in corporate practice and handles complex projects such as financing transactions for power projects, mergers and acquisitions, banking, real estate, entertainment, and intellectual property. He represents local and foreign clients in corporate, project finance, securities, foreign investment, technology, telecommunications, Internet and e-Commerce projects.
He was actively involved in the lobbying efforts for the passage of the e-Commerce Act (Republic Act No. 8792). Thereafter, he became the Principal Drafter of the Implementing Rules & Regulations for the E-Commerce Act and a Co-Drafter of the Rules on Electronic Evidence.
Books
Author, COURSE BOOK ON CYBERSPACE LAW (2002).
Author, THE RULES ON ELECTRONIC EVIDENCE (2001).
Author, THE ELECTRONIC COMMERCE ACT AND ITS IMPLEMENTING RULES AND REGULATIONS: ANNOTATIONS (2000).
Articles
Author, New Philippine Rules on Electronic Evidence, Int'l Tech. L. Rev. (2001).
Author, Philippines on Brink of New Internet Legislation, Int'l Internet L. Rev. (2000).
Obligations and Contracts
Torts & Damages
Negotiable Instruments Law (Bills and Notes)
Credit Transactions
Negotiation & Mediation Workshop
Advanced Topics in Commercial Law
Advanced Issues in Intellectual Property
Cyberspace Law