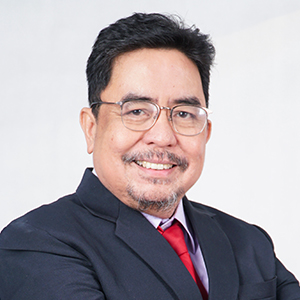 Professor
Dante B. GATMAYTAN

(+632) 8 920 5514 loc 403
Ateneo de Manila University, Bachelor of Science in Legal Management (1987)
University of the Philippines, Bachelor of Laws (1991)
Vermont Law School, Master of Studies in Environmental Law, Cum Laude (1995)
University of California, Los Angeles, Master of Laws (1996)
Professor Gatmaytan teaches Constitutional Law, Legal Method, and Local Government Law. Before he entered the academe in 1998, he practiced law through public interest law offices working with rural poor communities involved in environment and natural resources law, indigenous peoples' rights, agrarian reform, and local governance.
He graduated with a Bachelor's Degree from the Ateneo de Manila (B.S. Legal Management) in 1987 and a law degree (LL.B.) from the University of the Philippines in 1991. He holds Masters Degrees from Vermont Law School (cum laude) and the University of California, Los Angeles.
Professor Gatmaytan writes on a wide range of issues which include the environment, gender, the judiciary, and the intersection of law and politics. His works have appeared in the Asian Journal of Comparative Law, the Oregon Review of International Law, the UCLA Pacific Basin Law Journal, the Georgetown International Environmental Law Review, and the Harvard Women's Law Journal among others.
His primary research interests are concentrated on constitutional amendments, the interaction of law and politics, and comparative constitutionalism.
Professor Gatmaytan's books include Legal Method Essentials, Local Government Law and Jurisprudence, and Constitutional Law in the Philippines: Government Structure (published by Lexis-Nexis in 2015). His scholarship is collected in More Equal than Others: Constitutional Law and Politics, and Underclass: Public Interest Law Practice Perspectives.
He served as the head of the Information and Publication Division of the UP Law Center from 2013-2018 and is presently Director of the Institute for the Administration of Justice.
Books
Author: UNDERCLASS: PUBLIC INTEREST LAW PRACTICE PERSPECTIVES (2018)
Author: MORE EQUAL THAN OTHERS: CONSTITUTIONAL LAW AND POLITICS (2017)
Author, CONSTITUTIONAL LAW IN THE PHILIPPINES: GOVERNMENT STRUCTURE (2015)
Author, A HANDBOOK ON LOCAL ENVIRONMENTAL GOVERNANCE (2014)
Author, LEGAL METHOD ESSENTIALS 2.0 (2014)
Author, LOCAL GOVERNMENT LAW AND JURISPRUDENCE (2014)
Editor, GRANDEUR: LECTURES DELIVERED ON THE OCCASION OF CENTENNIAL OF THE UNIVERSITY OF THE PHILIPPINES COLLEGE OF LAW (2013).
Articles
Author, Judicial Historical Revisionism in the Philippines: Judicial Review and the Rehabilitation of Ferdinand Marcos, 15, U. Pa. ASIAN L. Rev 339 (2020)
Author, Constitutional Change as Suspect Projects: The Philippines, 14 J. Comp. L. 139 (2019).
Author, Duterte, judicial deference, and democratic decay in the Philippines, 28 Zeitshrift Für Politikwissenschaft 553- (2018)
Author, Lost in Transmission: Rule of Law Challenges in the Philippines, 8 IMPUNITY WATCH L.J. 8 (2018)
Co-Author, Corruption and Civic Space: Contextual Factors Influencing EITI Compliance, 4 Extractive Industries and Society 701 (2017).
Author, Judicial Review of Peace Initiatives, 34 UCLA Pac. Am. L.J. 47 (2016).
Author, Impeachment as a Popular Check on Official Misconduct, 37 J. Integ. Bar Phil. 146 (2012).
Co-Author, Averting Diversity: A Review of Nominations and Appointments to the Philippine Supreme Court (1988-2008), 6 Asian J. Comp. L. 1 (2011).
Author, From Cariño to Central Mindanao University: The Troubled Trek of the Right to Ancestral Domains, 36 J. Integ. Bar Phil. 38 (2011)
Author, The Judicial Review of Constitutional Amendments: The Insurance Theory in Post-Marcos Philippines, 1 Phil. L. Soc'y. Rev. 74 (2011)
Author, Can Constitutionalism Constrain Constitutional Change?, 3 Nw. Interdisc. L. Rev. 22 (2010)
Author, Crafting Policies for the Guantánamo Bay Detainees: An Interbranch Perspective, DePaul Rule of Law Journal. at 1-18 (2010).
Author, Judicial Restraint and the Enforcement of Environmental Rights in the Philippines, 12 Or. Rev. Int'l L. 1 (2010).
Author, Artificial Judicial Environmental Activism: Oposa v. Factoran as Aberration, 17 Ind. Int'l Comp. L. Rev. 1 (2007).
Author, Changing Constitutions: Judicial Review and Redemption in the Philippines, 25 UCLA Pac. Bas. L.J. 1 (2007).
Author, It's All the Rage: Popular Uprisings and Philippine Democracy, 15 Pac. Rim L. Pol'y J. 1 (2006).
Author, The Illusion of Intergenerational Equity: Oposa v. Factoran as Pyrrhic Victory, 15 Geo. Int'l Envtl. L. Rev. 457 (2003).
Author, Death and the Maid: Work, Violence, and the Filipina in the International Labor Market, 20 Harv Women's L. J. 229 (1997).
Local Governments
Land Titles and Deeds
Legal History
Legal Theory
Legal Method
Administrative Law
Constitutional Law