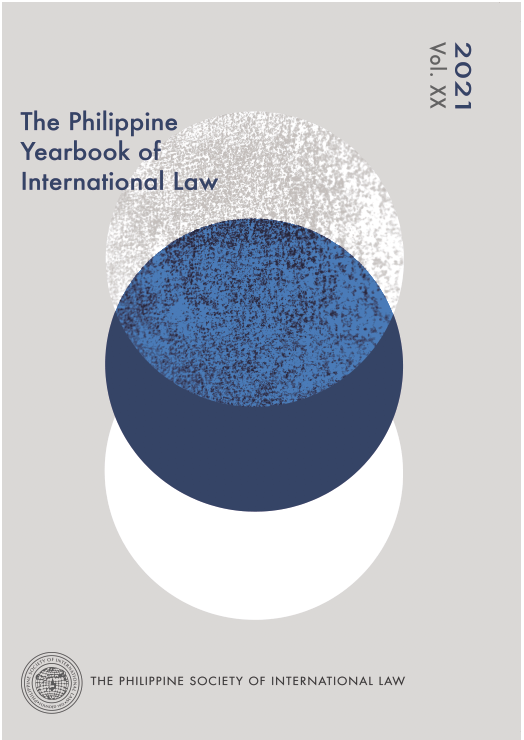 The Philippine Yearbook of International Law 2021 Volume XX
ARTICLES
Characterizing Peace Process Instruments and Agreements with Insurgent Groups in the Philippines by Sedfrey Martinez M. Candelaria
International Construction Arbitration in the Philippines: The Curious Case of China Chang by Louie T. Ogsimer
Moot But Academic: An Exegesis of Pangilinan vs. Cayetano by Rommel J. Casis
Diplomatic Notes and the South China Sea Disputes by Lowell Bautista 
REPORTS
Annexes to Diplomatic Notes and the South China Sea Disputes
Annex I: List of Pre-Arbitration Note Verbales (2009-2016)
Annex II: List of Pre-Arbitration Note Verbales (2016-2022)
International Criminal Court Pre-Trial Chamber Decision on  the Formal Investigation into the Philippine Situation and  Suspension of Investigation in Light of the Philippine Request
Signing and Ratification of the Treaty on the Prohibition of Nuclear Weapons
Accession to the Beijing Treaty on Audiovisual Performances
Signing of Philippine- United States Aeronautical and Maritime Search and Rescue (AMSAR) Agreement
Diosdado Sama y Hinupas and Bandy Masanglay y Aceveda vs. People of the Philippines
St. Benedict Childhood Education Centre, Inc., and Fr. Ernesto O. Javier vs. Joy San Jose
People of the Philippines vs. Ramon "Bong" Revilla, Jr.,  Richard A. Cambe, and Janet Lim Napoles
House of Representatives Electoral Tribunal vs. Daisy B. Panga-Vega
Senators Francis "Kiko" N. Pangilinan, et al. vs. Alan Peter S. Cayetano, et al.
Aniceto B. Ocampo, Jr. vs. International Ship  Crew Management Phils., Inc., et al.
Cynthia A. Villar vs. Alltech Contractors, Inc., et al.
Raemark S. Abel vs. Mindy P. Rule, et al.
Prospero A. Pichay, Jr.  vs. The Honorable Sandiganbayan (Fourth Division) and People of the Philippines, as Represented by the Office of the Special Prosecutor
Dr. Benjamin D. Adapon, For Himself and on Behalf of the  Computerized Imaging Institute, Inc., Formerly Known as the Computed Tomography Center, Inc., vs. Medical Doctors, Inc.
Esther Victoria Alcala Vda. De Alcañeses, vs.  Jose S. Alcañeses, et al. .
In Re: Resolution Dated 05 August 2008 in  A.M. No. 07-4-11-Sc Atty. Jaime V. Lopez
KLM Royal Dutch Airlines vs. Dr. Jose M. Tiongco
In Re: Petition for Recognition of Foreign Judgment of Divorce  with Prayer to Change Civil Status of Janevic Orteza Ordaneza  from Married to Single, Janevic Orteza Ordaneza, Represented by:  Ricky O. Ordaneza vs. Republic of the Philippines
Marietta Pangilinan Johansen vs. Office of the Civil Registrar General, Department of Foreign Affairs, Philippine Statistics Authority, and Office of the Solicitor General
Municipality of Makati (Now City of Makati) vs.  Municipality of Taguig (Now City of Taguig)
Atty. Howard M. Calleja, et al. vs. Executive Secretary, et al.
A.M. No. 21-03-02-Sc Rules on Action for Support and  Petition for Recognition and Enforcement of Foreign Decisions or Judgments on Support (March 23, 2021) 353
DOJ Opinion No. 23, S. 2021
Philippine Participation in Moot Court Competitions
Judge Raul C. Pangalangan Retires as Judge of the International Criminal Court
The 2021 Asian Society of International Law  8th Biennial Conference
Philippine Scholars Participate in Training and Researching International Law in Asia (TRILA) Philippines 2021
PYIL Board Members Elected to Executive Council of the Asian Society of International Law (AsianSIL)
Professor Elizabeth H. Aguiling-Pangalangan Gives Lecture at the 25th Anniversary of the Child Protection Convention