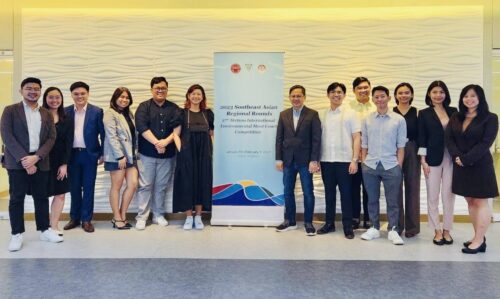 The Institute of International Legal Studies hosted the 2023 Southeast Asian Regional Rounds (SEARR) of the Stetson Environmental Moot Court Competition from January 30 2023 to February 3, 2023.
SEARR 2023 kickstarted with a forum on Southeast Asian Biodiversity and Climate Change. The first speaker  Dr. Mario Juan A. Aurelio tackled International Seabed Authority and Deep Seabed Mining with Atty. Rosette S. Ferrer sharing her expertise as a representative of the Philippines in the Conference of Parties to the CBD to discuss the Kunming Montreal Global Biodiversity Framework. Dr. Lowell B. Bautista discussed Climate Change and Marine Biodiversity while Atty. Jacqueline Joyce F. Espenilla gave a lecture on Biodiversity beyond National Jurisdiction.
The topics presented in the Forum helped the participants formulate their submissions and arguments based on this years problem that focused on Questions Relating to Deep-Sea Mining and State Responsibility .
A total of 23 teams or 115 law students from different countries in Southeast Asia registered as participants to the 2023 SEARR. The competition proper consisted of two parts: memorial submission and oral rounds.  The oral rounds were conducted via an online set-up with  16 teams competing in the preliminary rounds.
Students from the University of San Agustin, National University of Singapore, University of the Philippines College of Law. and Singapore Management University comprised the the top four teams who will be Southeast Asia's representative to the International Moot Court Competition at Stetson Law, Gulfport, Florida on April 13-15, 2023.
In the final round,  it was the University of San Agustin (USA) against National University of Singapore (NUS)  with USA emerging as champions. Mr. Marco Giorgione A. Dava was  awarded as the best oralist in the final rounds.
The University of the Philippines College of Law was also recognized as  the best overall memorial followed by University of St. Lasalle and National University of Singapore.