Search the Library Database via TUKLAS:
UP College of Law Students, please fill up the Google online form for one-time registration and validation of enrollment at https://bit.ly/UPLLvalidation1. This is in lieu of the usual UP ID library validation process every semester to identify the currently enrolled students of the College.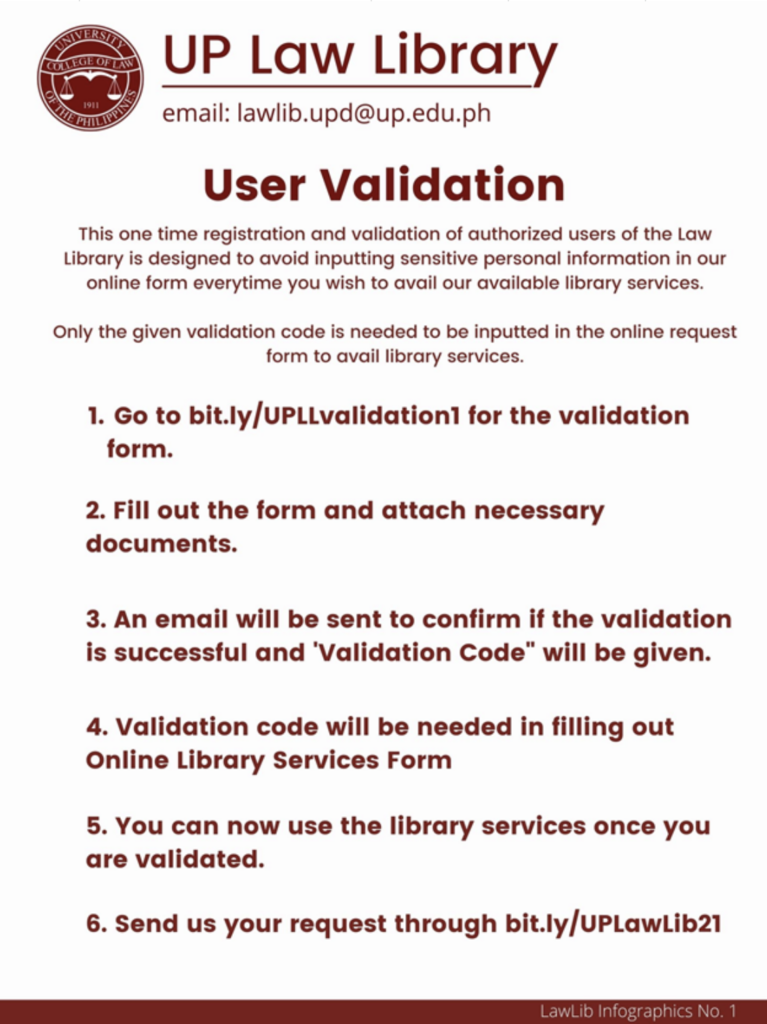 Physical visit to the LawLib is still restricted due to the existing IATF protocols. You can avail library services from 8:00-5:00 by filling up the online request form at https://bit.ly/UPLawLib21
Chat, email, or schedule an appointment with one of our law librarians. Just click a link below or view contact info.
1. Resources for Faculty – Law Library team offers support to our faculty complement with their curriculum reading materials, research and scholarship interest that gathers all available library resources (printed and online materials) to fulfill their request for information resources.
These faculty services include finding of needed cases, laws, journal articles, book chapters, researching in our online legal databases and in some instances via Interlibrary Loan arrangement with other Law Libraries in order for the Law Library to provide needed materials when they are needed.
a. Course Reserve Services – Faculty members may submit a request prior to the start of the semester books and other resources (e.g. Journal articles, cases, laws, etc.) to be place on Reserve Section to be used by their students as part of their reading list for the course. Additional materials may be added during the semester. After the semester, materials will be automatically remove from the Reserve Section and return to the shelves.
b. Syllabus assistance – Library team can help our faculty for checking the availability of listed references in their syllabus if available in the library collection whether is a case, law, journal article, book or government document.
2. Borrowing of Books – All books borrowed in our iLib system and thru ILL are subject to recall and cannot be renewed when another authorized library user has a need for that particular material. You will be notified by email of the recall and please return recalled items as soon as practicable. Either bring them to the Law Library circulation desk or send via courier service (e.g. Grab, Lalamove, Toktok, etc.)
Items borrowed can be renewed up to two times as long as no other users have signified a need for that materials. After the two times of renewal, the borrower need to bring and return the materials to the Law Library Circulation section. All borrowed materials must be returned or renewed as soon as it is due to avoid incurring a library fine for the late return of borrowed library material.
Books on Reserved Section can be borrowed for overnight use for 3 days. See Guidelines to access UP Law Library resources for details. The Law Library Integrated Library System (ILS) is iLib of the UPD Main Library and collection can be search using the Tuklas (OPAC).
3. Legal Resources on Demand (LROD) – a document delivery service of the Law Library to locate and deliver requested library materials from our collections or from other law libraries as needed. Requests received via our Google form after 5pm, weekends and holidays will be attended to the next business day by the library staff.
4. Inter Library Loan (ILL) – needed materials not available in our collection or online databases can be borrowed from other Law Libraries or institution under this ILL arrangement. Please contact the Library Team for assistance.
THE UP COLLEGE OF LAW LIBRARY
The UP College of Law Library is housed in Espiritu Hall, a 5-story building named in honor of former law Dean Jose A. Espiritu (1934-41; 1945-1952). It is located between Malcolm Hall (UP College of Law) and Bocobo Hall (UP Law Center), with Malcolm Theater on its ground floor .
The library areas are: the Law Learning Commons (2nd Floor), General Circulation & Technical services area (3rd Floor), Reserve section and a dedicated section for Rare Special Materials (4th Floor), and the Periodicals section (5th Floor). The whole floor area is accessible by a staircase and by a scenic elevator. In the satellite campus of UP-BGC, the Law Library is located on the 5th floor of the Henry Sy Sr building, while the Law Learning Commons is on the upper ground floor.
 The UP Law Library, or simply LawLib, has an extensive collection of legal resources (printed and online) of books, journals, government publications (e.g., Official Gazette, Laws, and Legislation), and Philippine Reports and SCRA series both containing Philippine Supreme Court Decisions. It also subscribes to legal databases such as CD Asia Online and Lex Libris — the precursor of CD Asia Online — as well as foreign online databases like HeinOnline, Lexis Advance, and Westlaw.
Given the public character of the LawLib, its varied clientele, aside from its law students, Faculty, and non-teaching staff, includes legal researchers from different government agencies, law firms, and members from the legislative and judicial branches of our government. Over the years, the LawLib has serviced the need for legal resources, information, and materials of law practice community in the country.
Aside from Philippine legal materials, part of the printed collection includes legal resources from other jurisdictions such as US Supreme Court Reporters, American Law Reports, etc. Subscriptions for these were discontinued and replaced with the three online databases HeinOnline, Lexis Advance, and Westlaw.
The LawLib special collections include unpublished Supreme Court decisions, Spanish law books, and Indigenous law collections, to mention a few.
LawLib resources can be viewed using the Tuklas Discovery Service (Online Public Access Catalog) of the UPD Main Library using the advanced search option and selecting the college of law library as unit library location filter.  The search generated result will show the available printed resources and subscribed e-resources (e.g., ebooks) of the LawLib..  Subscribed online legal resources like HeinOnline, Lexis Advanced, Westlaw are accessible to all authorized users via OpenAthens, a single sign-on authentication protocol of authorized users.

TUKLAS
This is the OPAC (Online Public Access Catalog) of the UPD libraries. Search the Library's holding for books, digital records, academic journals, newspapers, etc. Please use the advance search option to filter as to location of the materials (College of Law) in order for the generated result to be only the library materials available in our LawLib collection.
Click here to search for a title via TUKLAS.

OPEN ATHENS
Remote access to subscribed electronic resources
OpenAthens allows users to access multiple electronic resources without needing separate usernames and passwords for each individual vendor.
NOTE: All authorized users of the LawLib can access the subscribed legal databases via a single sign-on authentication using their issued UP webmail as access credentials.
The following subscribed online legal resources are accessible via OpenAthens:
HeinOnline
Lexis Advance
Westlaw Asia
WestLaw Classic
Some of databases accessible via OA (Open Athen) to all authorized users of the Law Library with content related to legal resources are:
JSTOR
Proquest One Academic – includes the academic complete (ebooks) and postgraduate thesis/dissertations
Sage Knowledge
Gale Reference Complete
EBSCO Academic Search Complete
Emerald Insights
Project Muse
Accessing Online Resources Using Open Athens
Login to your UP Email Account
No email account yet? Follow the instructions here.
At the upper right of your screen, click on the Google Apps icon (9 dots)

Scroll down and click on "Open Athens"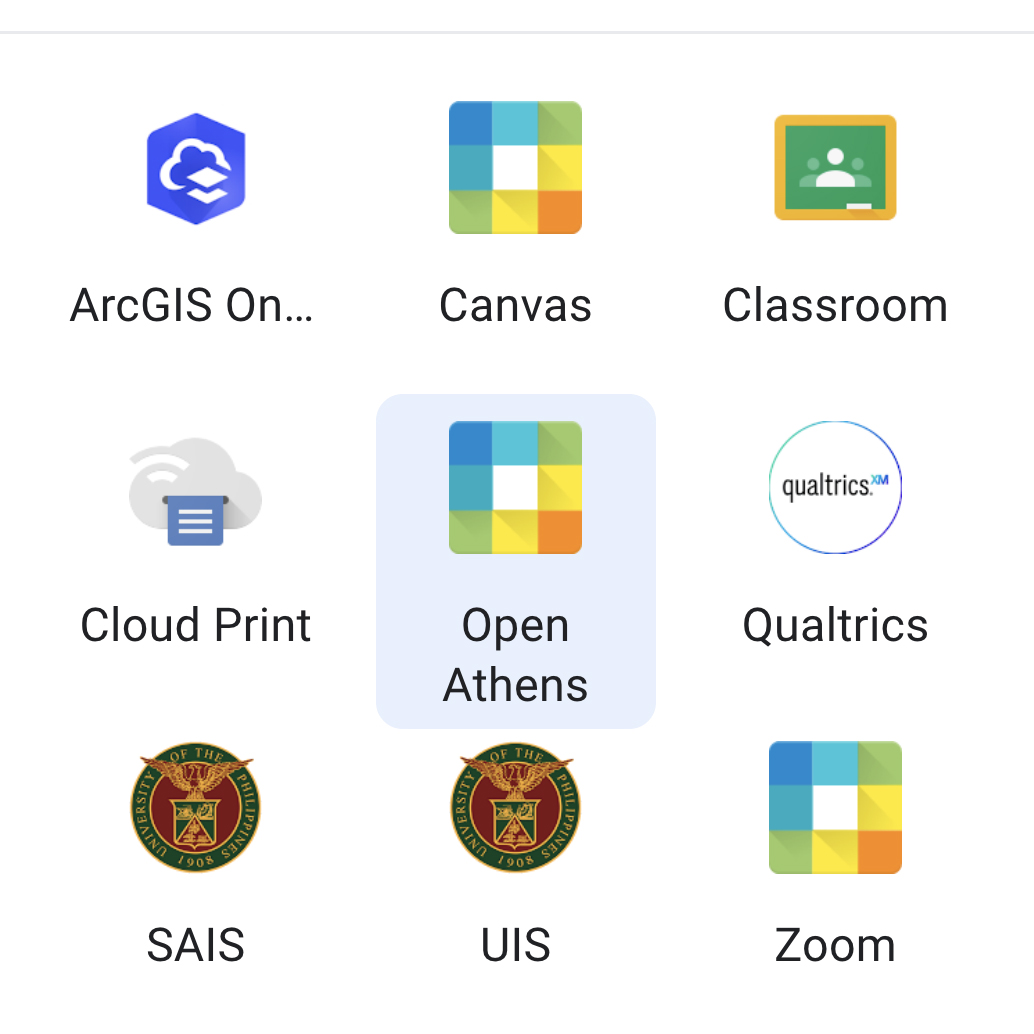 Choose your UP email in logging in
Click on "Login" and "Login to MyAthens"
Choose your UP Email account when Logging in
You can now browse different online databases subscribed by UP Diliman

LEXIS ADVANCE
Access to Lexis Advance is via OpenAthens, please refer to the instructions above.
Alternate access for those without UP webmail account is available. Please contact the UP Law Student Government (LSG) for the access credentials valid until 23 October 2021.
Click here to access Lexis Advance using the credentials provided by LSG.

WESTLAW ASIA
LawLib subscribed to 4 jurisdictions:
Hongkong

Malaysia

Philippines

Singapore
Our subscription includes cases, legislation, commentary, journal and current awareness from this jurisdiction.
Access to WestLaw Asia is via OpenAthens, please refer to the instructions above.

WESTLAW CLASSIC
Accessible via the Westlaw Asia landing page, just click the Westlaw Classic tab to be redirected to the Westlaw Classic webpage to access US legal resources like cases, statutes, Regulations, Administrative decision and some international legal materials.
Access to WestLaw Classic is via OpenAthens, please refer to the instructions
above
.

HEINONLINE

Access to HeinOnline is via OpenAthens, please refer to the instructions above.
Alternate access for those without a UP webmail account is available. Please contact LawLib by email for the access credentials to use.
Click here to access HeinOnline using the credentials provided by LawLib.

PHILIPPINE LAW JOURNAL
The Philippine Law Journal is a student-edited publication devoted to the promotion of legal scholarship through research and writing. It is the country's premier student-run and the oldest English language law review journal. It is managed by the Editorial Board, composed of select students of the University of the Philippines College of Law. The Journal publishes four issues every year.
The Philippine Law Journal (PLJ) content is accessible thru their website or to all authorized users of the LawLib through  HeinOnline (access via OpenAthens or  via login credentials which may be requested from LawLib by email).
CD ASIA ONLINE
The "pioneer and market leader in creating and publishing tools that transformed the legal research in the Philippines". Our subscription consists of 20 access ID's for the complete libraries (Laws, Jurisprudence, Taxation, SEC, Labor and Social Legislation, Banking Laws and Regulations, Department of Justice, Election, Lexicon of Philippine Legal Terms, Intellectual Property Law) and 120 shared access ID's for the laws and jurisprudence libraries and legal lexicon distributed 2 shared access ID's per class block. The Lex Libris database (the predecessor of CDAsia Online) is still accessible within UP Law Library Computer Section only for those who prefer this stand-alone database interface than the online version.
Address:
College of Law Library, Espiritu Hall
University of the Philippines Diliman
Quezon City 1101 Philippines
Email: lawlib.upd@up.edu.ph
UP BGC Library, 5/F Henry Sy Sr. Bldg.
University of the Philippines
Bonifacio Global City (UP BGC)
Taguig City 1634 Philippines
Email: lawlib.upbgc@up.edu.ph
[HTML SCRIPT FOLLOWS: DO NOT REMOVE]