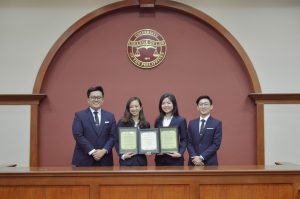 The UP Law Stetson Team made it to the Quarterfinals in the International Rounds of the 24th Annual Stetson International Environmental Moot Court Competition! This is the first time that UP Law has competed in a live online moot court competition.
The team likewise had the best-ranked speakers during the three-day tournament. Urania Estrellita Lindo was recognized as the Best Oralist of the Preliminary Rounds while Beatriz Anna Balbacal was awarded 3rd Best Oralist of the Preliminary Rounds.
Due to unique circumstances, the International Rounds were held exclusively via video conferencing for the first time. The competition is traditionally hosted by Stetson University College of Law in Gulfport, Florida, U.S.A. The tournament ran from April 2-4, 2020 and was participated in by 18 teams from various law schools across the globe.
The team was mentored by Prof. Rommel Casis as Faculty Adviser, together with Marianne Crielle Vitug as Assistant Coach. The contingent was composed of Team Captain Sheigne Miñano (III-A), Bea Balbacal, (II-BGC Day), Urania Estrellita Lindo (III-Eve), and Justin James Gacula (IV-E).
---
Please view the UP LAW COVID-19 RESPONSE page for all pertinent information on how we are managing our academic and administrative support during the pandemic.