UP GLPP holds Gender Orientation for Law Faculty nationwide
The University of the Philippines College of Law – Gender Law and Policy Program (UP GLPP) conducted a webinar entitled, "Gender Orientation for Law Faculty" last September 16, 2023 via Zoom. This is part of GLPP's continuing effort to provide regular gender sensitivity orientations for law students, law professors, and legal professionals in the country. The event was geared towards promoting and fostering a more inclusive and gender-sensitive legal environment through active discussions regarding gender-issues in the academe and legal profession with legal professionals who also serve as the guides, instructors, and mentors of future lawyers. The program featured lectures by expert resource speakers who discussed fundamental gender theory concepts and the prevalent gender rights issues.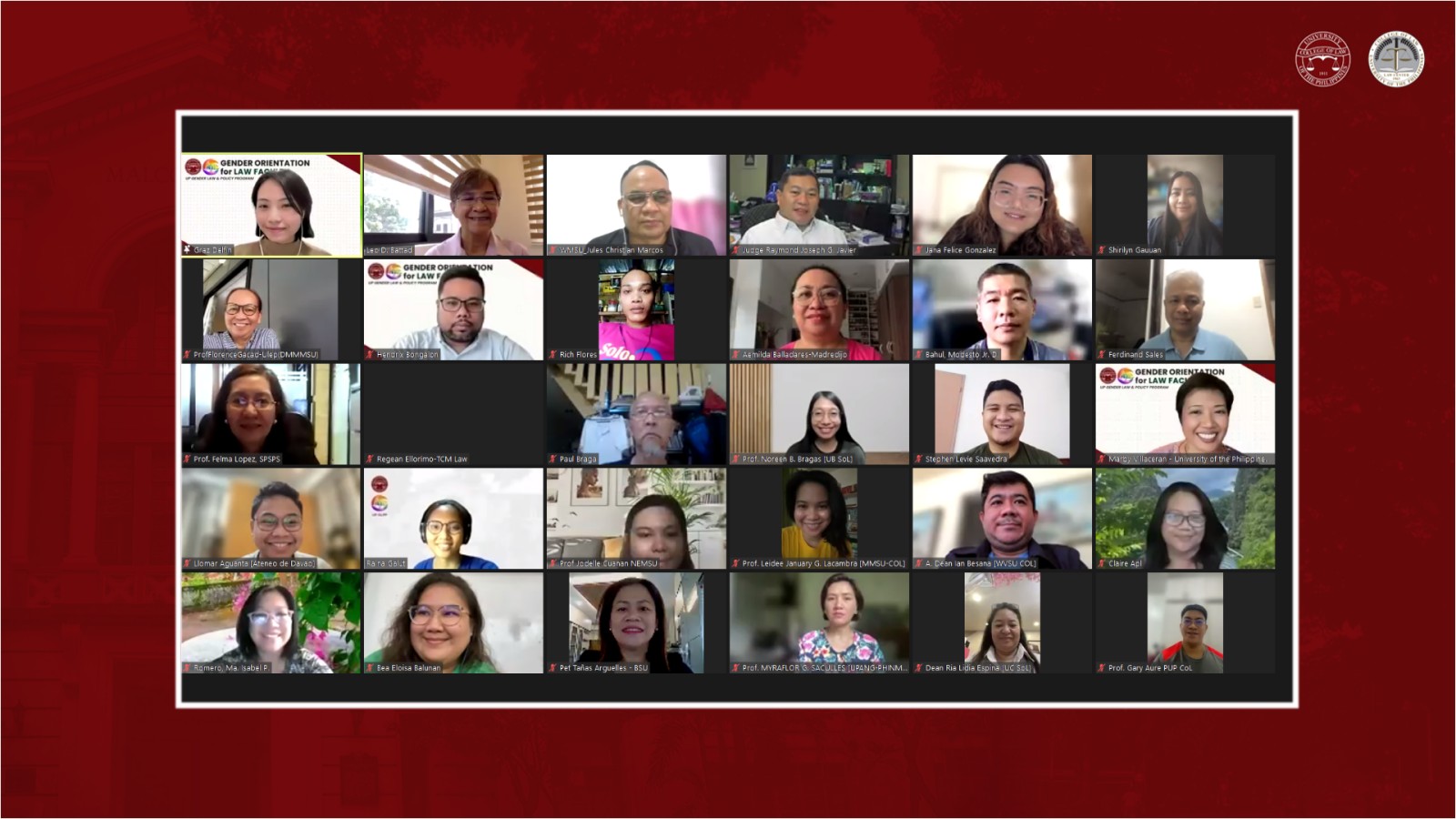 The webinar was open to and attended by law school faculty members nationwide. It was attended by more than 60 participants consisting of instructors, judges, and deans who actively participated in the open forum after the lectures of Prof. Marie Aubrey, "Marby," J. Villaceran, PhD, Prof. E. (Leo) D. Battad, and Atty. Hendrix Bongalon. The following topics were discussed: (1) Examining Gender and Society (Prof. Marby), (2) Gender-fair language (Prof. Leo), and (3) Anti-Sexual Harassment in Work and Educational/Training Institutions (Atty. Hendrix). In these discussions, Prof. Marby's extensively discussed gender concepts including SOGIESC (sexual orientation, gender identity, gender expression and sex characteristics), while Prof. Leo emphasized on the importance of gender sensitivity in the use of language. Both imparted ways on how to become conscious of the naturalized gender stereotypes and biases in society and use this awareness to change old habits into more gender-sensitive conduct. Atty. Hendrix then focused on gender-based violence through a discussion of the current anti-sexual harassment laws in the country.