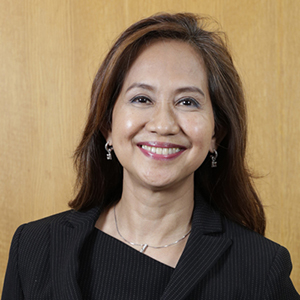 Dean's Office, 2/F UP College of Law
(+632) 8 920 5514 loc. 102
University of the Philippines College of Law – Bachelor of Laws,  Cum Laude (1982)
University of the Philippines – Bachelor of Science in Foreign Service, Cum Laude (1978)
Before serving as the 15th Dean of the University of the College of Law, Dean Fides Cordero-Tan was a respected practitioner, educator, and socio-civic champion.
As counsel (first for Puruganan Chato Chato & Tan Law Office, and later Tan Concepción & Que Law Firm), she handled litigation, tax, as well as corporate and special projects.
Dean Cordero-Tan has long involved herself in legal education, first as Associate Professor in the UP College of Law (teaching Criminal Procedure, Corporation Law, and Insurance Law). Even after joining private practice she remained a lecturer in the College, teaching Evidence and serving as the first Chairperson the College's pioneering Paralegal Training Program.
She is also an active in alumni matters, serving as the UP Women Lawyers Circle's President from 2010 to 2012, establishing its Legal Assistance Center and producing a documentary for the UP Law Centennial.
The Dean is a strong believer in the UP ethos of public service and giving back to the community. She is a leader and champion for several socio-civic causes, including child rights, adult literacy, food security, and women empowerment.
Supervised Legal Research
Criminal Procedure

Insurance

Law Practicum 2

Evidence