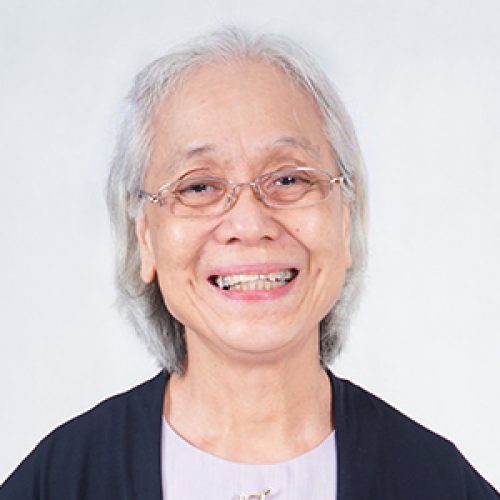 Associate Professor
Concepcion L. JARDELEZA

(+632) 8 920 5514 loc 232
University of the Philippines, Bachelor of Arts in Political Science (1971)
University of the Philippines, Bachelor of Laws (1975)
Professor Jardeleza obtained her B.A. in Political Science (1971) and LL.B. (1975) degrees from the University of the Philippines and subsequently passed the Bar Examinations in 1976. Previously, she was an American Field Service Scholar and Entrance Scholar of General William Mitchell High School in Colorado, USA.
Professor Jardeleza teaches classes in Legal Profession and Sales. Prior to becoming Associate Dean, she was Officer in Charge of the Information and Publication division of the UP Law Center. She is also a former College Secretary and Director of the evening program, and has worked with the UP Law Center in various capacities since 1994. Her areas of interest include legal reforms and legal ethics.
She has also contributed to several law publications. She has been an editor of the Philippine Law Report, the ASEAN Law Journal, and other publications of the UP Law Center. She has written on subjects including the Code of Professional Responsibility, the anti-VAWC act, the Philippine judicial system, and dispute resolution in the Philippines.
Books
Co-editor, IN THE GRAND MANNER: LOOKING BACK, THINKING FORWARD: 100 YEARS OF U.P. LAW, DILIMAN (Danilo L. Concepcion, Marvic F. Leonen, Concepcion Lim-Jardeleza, Florin T. Hilbay eds., 2013).
Editor, PRIMER ON THE EXPANDED SENIOR CITIZENS ACT OF 2010 (2010).
Co-Author,CODE OF PROFESSIONAL RESPONSIBLITY ANNOTATED (2007).
Resource Person, TEACHING MANUAL ON LEGAL ETHICS (2007).
Co-Author, THE ANTI-VAWC ACT: CRMINAL AND CIVIL REMEDIES CONVERGE WITH COMMUNITY RESPONSES (2005).
Supervising Faculty, BENCH BOOK ON THE APPLICATION, COMPUTATION AND GRADUATION OF PENALTIES (2001).
Co-editor, SELECTED LAWS AND CASE DIGESTS AFFECTING PRIVATE EDUCATION (Concepcion L. Jardeleza & Magnolia Mabel P. Movido-Gulle eds., 1999).
Editor, SIGNIFICANT 1991-1998 LAWS (1999).
Co-editor, LEGAL ASPECTS OF INTER-COUNTRY ADOPTION: LECTURES DELIVERED AT A SEMINAR HELD ON 13 APRIL 1996 (Concepcion Lim-Jardeleza & Gerrome Y. Apolona eds., 1997).
Articles
Author, Regulation of Lawyers: Marketing Legal Services on the Web, 86 Phil. L. J. 243 (2012).
Issue Editor, Public Policy Journal: UP Center for Integrative and Development Studies (2005).
Author, Court System: How the Court System is used as a Dispute Resolution Mechanism, in Dispute Resolution Mechanisms in the Philippines, Asian L. Series No. 18 (2002) .
Contributor/Writer, The Philippine Judicial System, in Judicial System and Reforms in Asian Countries (Philippines) Asian L. Series No. 5 (2001).
Legal Profession
Sales
Agency and Partnership