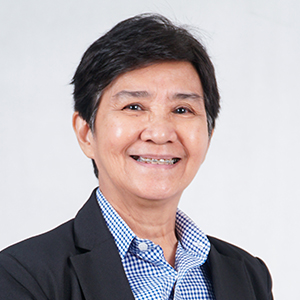 Associate Professor
Evelyn (Leo) D. BATTAD

(+632) 8 920 5514 loc 417
University of the Philippines, Bachelor of Arts in Political Science (1978)
University of the Philippines, Bachelor of Science in Foreign Service
University of the Philippines, Bachelor of Laws (1981)
Yale University, Master of Laws (1998)
Prof. Battad obtained her B.A. (1978) in Political Science, B.S. degree in Foreign Service, and LL.B. (1981) from the University of the Philippines and her LL.M. (1998) from Yale University School of Law. She is an Assistant Professor and former Director of the Office of Legal Aid at the U.P. College. She was a former University General Counsel of the UP System from July 2003 to February 2005.
She has taken human rights courses, trainings and fellowships in USA, Europe and Australia. She has also written articles and done research on topics such as gender equality, human rights and developmental legal aid.
Prof. Battad is also a human rights advocate. She is a member of the Free Legal Assistance Group (FLAG) and the founding and current Chairperson of the Street Children Development Center.
Author, The Theory and Practice of Negotiation: Mainstreaming the Human Rights-Based Approach in Conflict Situations, 85 Phil L. J. 564 (2011).
Author, The Philippines: Developmental Legal Advocacy: Meeting the Challenge of Relevance and Responsiveness in A HUMAN RIGHT TO LEGAL AID, Danish Institute for Human Rights, 107-34 (2010).
The Legal Profession
Labor and Social Legislation 1
Labor and Social Legislation 2
Special Proceedings