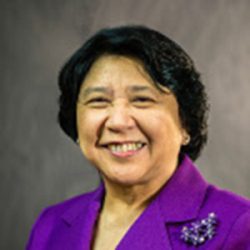 Associate Professor
Victoria A. AVENA

(+632) 8 920 5514 loc 102
University of the Philippines, BAF (1978)
University of the Philippines, Bachelor of Law (1982), Cum Laude
Columbia University, Master of Laws (1993)
Professor Victoria A. Avena received her LL.B. cum laude (1982.) from the University of the Philippines and LL.M. (1993) from the Columbia University School of Law. Her course selection included: civil and criminal procedure, evidence, criminal law, white-collar crime, law and sexuality, and accounting.
She has been teaching Civil Procedure and Evidence in the College of Law since 1994. She is also a Lecturer for the UP Law Center Institute on Government and Law Reform from 2001 until present. She held the post of UP Office of the Legal Aid Director from 2000 to 2001. She served as Commissioner of the Presidential Commission on Good Government from June 2001 to June 2004. She headed the UP Law Center Information and Publication Division from August 2004 to 2009.
Books
Editor, 1997 RULES OF CIVIL PROCEDURE AS AMENDED: RULES 1-71: WITH RELATED LAWS AND SUPREME COURT ISSUANCES WITH CROSS REFERENCES AND FOOTNOTES (2006).
Compiler and Digester, OVERVIEW OF REMEDIAL LAW (1981).
Articles
Author, The Public Order Act and the Morning After: Constitutional Issues, 56 PHIL. L. J. 525 (1981).