Statement of the University of the Philippines College of Law Faculty
5 February 2021   
We, the Faculty of the University of the Philippines College of Law, without exception or reservation, very strongly take exception and condemn the commentary entitled "Duterte foes want to control UP law school" under the byline "TDT" published by the Daily Tribune on 3 February 2021.
The commentary is an unwarranted and offensive attack that not only sullies and casts doubt upon the personalities of the four candidates currently being considered for the position of Dean of the UP College of Law, but also upon the professionalism and track record of the entire Faculty.
This is an unacceptable insult to the independence of the UP Law Faculty and a blatant attempt to invite unabashed political interference in a selection process for academic leadership that should be based purely on academic credentials, management experience and competence, professionalism and collegiality, and community within the College and with the University of the Philippines System.
The four candidates for Dean have their respective unique qualities and qualifications that we, as a collegial body and institution, all respect and accept.
We affirm our commitment to independence from political interference and influence from any quarter, and to the ultimate objectives of the UP College of Law of teaching in The Grand Manner to guide the finest learning and practice of law to the end that we may achieve distributive justice, a just and humane society, the protection and advancement of human rights, and the highest standards of public service for the Filipino people, all under the Rule of Law.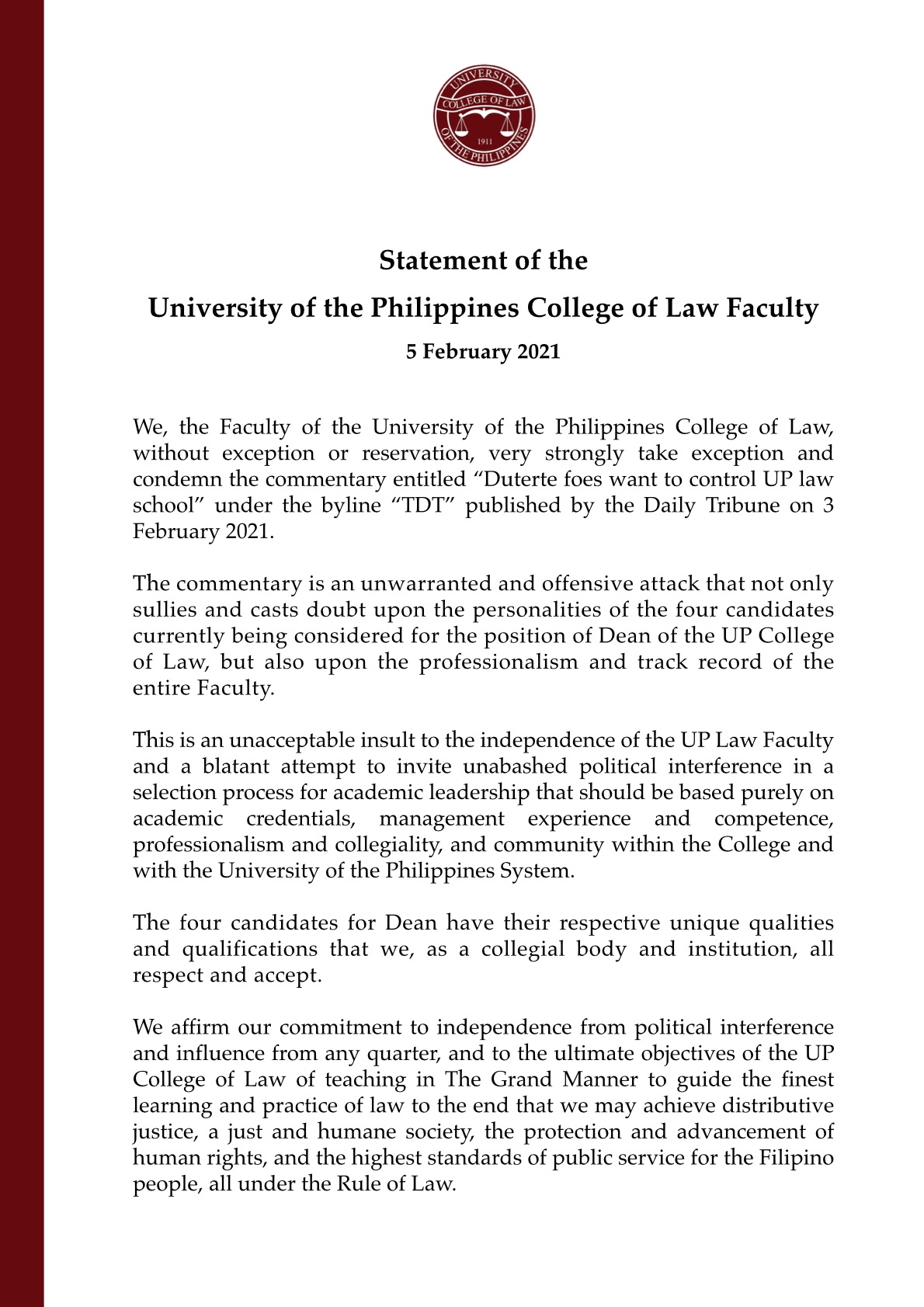 NOMINEES FOR DEAN

ELIZABETH
AGUILING-PANGALANGAN
JAY L.
BATONGBACAL

SANDRA MARIE O.
CORONEL

EDGARDO CARLO L.
VISTAN, II


ANNA MARIA D. ABAD
ABRAHAM REY M. ACOSTA
RAMON QUINTIN C. ALLADO
DARWIN P. ANGELES
JESUSA LORETO A. ARELLANO
FRANCIS ALVIN V. ASILO
HERMINIO C. BAGRO III
RAYMOND MARVIC C. BAGUILAT
RUBEN F. BALANE
RYAN HARTZELL C. BALISACAN
EMERSON S. BAÑEZ
PETER DONNELY A. BAROT
CHRYSILLA CARISSA P. BAUTISTA
PURISIMO S. BUYCO
DAN P. CALICA
JEROME D. CANLAS
OTHELLO C. CARAG
EMMA CARIÑO FRANCISCO
ARNEL PACIANO D. CASANOVA
ROMMEL J. CASIS
CELESTE RUTH CEMBRANO-MALLARI
MARIA GABRIELA R. CONCEPCION
FIDES C. CORDERO-TAN
JANNET CRUZ-REGALADO
ROWENA DAROY MORALES
PATRICIA R. P. SALVADOR DAWAY
FLORIAN KIM DAYAG
ALAYA M. DE LEON
JOSEPH BENJAMIN B. DE LEON
SENEN AGUSTIN S. DE SANTOS
JOAN DE VENECIA-FABUL
GWEN G. DE VERA
GABRIEL A. DEE
MA. SOLEDAD MARGARITA DERIQUITO-MAWIS
JOSE JESUS M. DISINI
MA. GISELLA N. DIZON-REYES
MICHELLE S.B. DY
AISSA V. ENCARNACION
EDUARDO C. ESCAÑO
ELVIRA V. ESCUETA-DUAVIT
JACQUELINE JOYCE F. ESPENILLA
ABDIEL DAN ELIJAH S. FAJARDO
MYRNA S. FELICIANO
ROBERTO L. FIGUEROA
ALEX FERDINAND S. FIDER
MIA G. GENTUGAYA
CARLO MIGUEL ROMEO S. GO
CECILIA THERESE T. GUIAO
TERESITA J. HERBOSA
CARLOS S. HERNANDEZ, JR.
CONCEPCION L. JARDELEZA
THEODORE JOSEPH M. JUMAMIL
KESTERSON T. KUA
JO BLANCA LABAY
CHRISTOPHER JOHN P. LAO
ARLENE G. LAPUZ URETA
MA. TANYA KARINA A. LAT
MA. CAROLINA T. LEGARDA

AMANDO VIRGIL D. LIGUTAN
GLENDA T. LITONG
VICTORIA V. LOANZON
JOHANNA ALERIA P. LORENZO
DINA D. LUCENARIO
SANDRA MAE T. MAGALANG
RYAN ANTHONY S. MALIT
DONNA PATRICIA C. MANLANGIT
MONICA JOY M. MARCELO
MARIA ROSARIO MARTE-REDIANG
MA. GOLDA GIGI G. MIÑOZA
ALFREDO B. MOLO III
ALBERTO T. MUYOT
CHRISTOPHER LOUIE D. OCAMPO
LAWRENCE GERARD T. ORTIZ
ANDRE C. PALACIOS
JOSE MIGUEL C. PALARCA
RENATO M. PAMBID
RAPHAEL A. PANGALANGAN
DIVINA GRACIA E. PEDRON
CARLA S. PINGUL
RONALD D. POLICARPIO
PATRICIA-ANN T. PRODIGALIDAD
ROGELIO V. QUEVEDO
GRACE P. QUEVEDO-PANAGSAGAN
PAUL DENNIS A. QUINTERO
SALMA PIR T. RASUL
OLIVER XAVIER A. REYES
JOSEPHINE P. RIMA-SANTIAGO
ANA MARGARITA A. RODRIGUEZ
CHARLTON JULES P. ROMERO
MA. ISABEL P. ROMERO
MARY GRACE ANNE ROSALES-STO.DOMINGO
RODERICK R.C. SALAZAR III
JOSE S. SAMSON III
BRYAN A. SAN JUAN
TEODULO ANTONIO G. SAN JUAN, JR.
DIONNE MARIE M. SANCHEZ
SIMONETTE E. SIBAL-PULIDO
RONALD O. SOLIS
MARY ROSE S. TAN
FINA BERNADETTE D. TANTUICO
THEODORE O. TE
MICHAEL T. TIU, JR.
RUBY ROSSELLE L. TUGADE
CRISOSTOMO A. URIBE
ARNELL P. UYCHOCO
FLORDELIZA C. VARGAS-TRINIDAD
RAUL T. VASQUEZ
SUSAN D. VILLANUEVA
ERNESTINE CARMEN JO D. VILLAREAL-FERNANDO
VIRGINIA B. VIRAY
YVETTE T. YANEZA-ESPORLAS
LEE EDSON P. YARCIA
ANTHONY CHARLEMAGNE C. YU
MA. KRISTINA S. ZAMORA